A lot of my favorite books have already been adapted into films.
Harry Potter
,
Stormbreaker
,
Eragon
,
Howl's Moving Castle
,
The Thief Lord,
etc. But there's still a TON of books I'd like to see made into movies. Here's a list I'm dying to see in theaters. Although, they're also very special to me. So if the director messes them up (as they so often do), I'd have to kill him/her. Anyway, onward!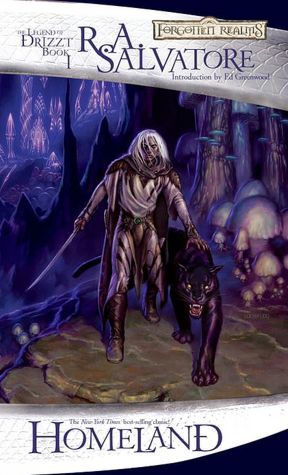 Homeland - R.A. Salvatore
Drow ranger Drizzt Do'Urden, first introduced in The Icewind Dale trilogy, quickly became one of the fantasy genre's standout characters. Homeland first reveals the startling tale of how this one lone drow walked out of the shadowy depths of the Underdark, leaving behind a society of evil and a family who want him dead. It is here that the story of this amazing dark elf truly began.--
Goodreads
I actually read this book first, mistaking it as the first in the series. It is if you go by chronological order, but I like to read books in the order the author published them. When I found out, I was none too happy.
I have no idea who would play Drizzt (it would have to be someone outrageously sexy) or how they would even go about with his costume. I would love to see Johnny Depp play Jarlaxle though. He's quirky enough to do it.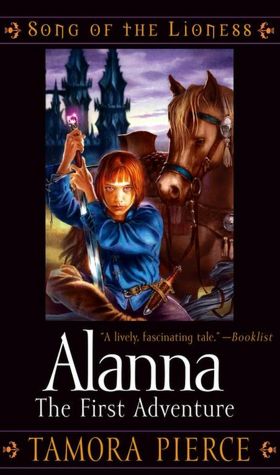 Alanna: The First Adventure - Tamora Pierce
Though a girl, Alanna has always craved the adventure and daring allowed only for boys; her twin brother, Thom, yearns to learn the art of magic. So one day they decide to switch places: Disguised as a girl, Thom heads for the convent to learn magic; Alanna, pretending to be a boy, is on her way to the castle of King Roald to begin her training as a page.
But the road to knighthood is not an easy one. As Alanna masters the skills necessary for battle, she must also learn to control her heart and to discern her enemies from her allies.
Filled with swords and sorcery, adventure and intrigue, good and evil, Alanna's first adventure begins--one that will lead to the fulfillment of her dreams and the magical destiny that will make her a legend in her land.
I really enjoyed this quartet as well as Pierce's other Tortall books, which she ties together quite well by including the same characters.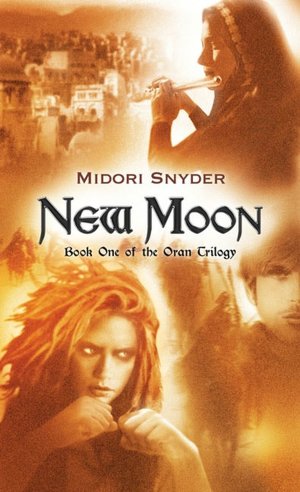 New Moon - Midori Snyder
Two hundred years ago, the Fire Queen destroyed her rival queens of Earth, Air, and Water in the fateful Burning and took power over the land. No child with a trace of the elemental magic was allowed to live. Years later, the country of Oran still trembles under her oppression. There is unrest in the city--and, for the first time in decades, rumors of hope. They say that four young women bearing the ancient magic escaped--four who have the powers of Earth, Fire, Water, and Air--and are even now finding one another.
These four have allies. A ragtag army of artists and singers, orphans and vagrants, thieves and knife-wielders, is stealing into the city. Their sign is scrawled on the tavern walls: the bloodred, blade-thin New Moon . . .
This was a pretty gruesome trilogy. It's a teen book, though at times it seems like it's adult. Lot of swearing, graphic violence, and sex. But I love anything that deals with controlling elements (huge Avatar: The Last Airbender fan). I don't think this book is in print anymore, which is super freaking lame.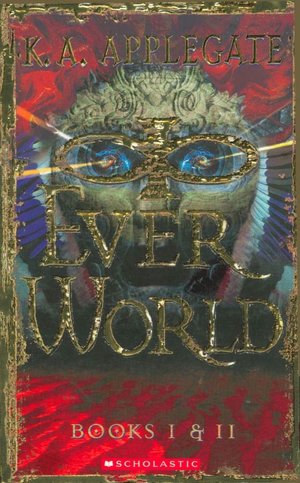 Everworld - K.A. Applegate
David's life was pretty normal. School. Friends. Girlfriend. Actually, Senna was probably the oddest aspect of his life. She was beautiful. Smart. But there was something very different about her. Something strange.
Then one day it began. One moment, Senna was with him. The next, she was swallowed up by the earth. David couldn't just let her go and neither could their friends. So David, April, Jalil, and Christopher followed Senna to a world they never could have imagined. Wolves the size of elephants, beings who consider themselves immortal, mythological gods.
Now the four friends have to find Senna and get home without losing their lives. Or their minds. Or both . . .
I'm sad this book is also no longer in print. I had to buy the majority of the series (there are twelve books) at a used book store (which I hate doing). It's such an epic series. Norse gods, Greek gods, Egyptian gods, King Arthur and his gang--and all of them threatened by an alien race. How could you not love it?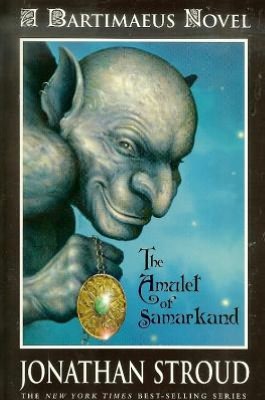 The Amulet of Samarkand - Jonathan Stroud
Nathaniel is eleven years old and a magician's apprentice, learning the traditional arts of magic. All is well until he has a life-changing encounter with Simon Lovelace, a magician of unrivaled ruthlessness and ambition. When Lovelace brutally humiliates Nathaniel in public, Nathaniel decides to speed up his education, teaching himself spells way beyond his years. With revenge on his mind, he masters one of the toughest spells of all and summons Bartimaeus, a five-thousand-year-old djinni, to assist him. But summoning Bartimaeus and controlling him are two different things entirely, and when Nathaniel sends the djinni out to steal Lovelace's greatest treasure, the Amulet of Samarkand, he finds himself caught up in a whirlwind of magical espionage, murder, and rebellion.
I don't remember the main character, Nathaniel, very well. I don't think he stood out to me much. But I absolutely adored the smart-ass, know-it-all djinni Bartimaeus. Part of this is due to Stroud's usage of footnotes in Bart's POV. They added to the humor and gave side stories. Seriously, I LOLed throughout the entire book.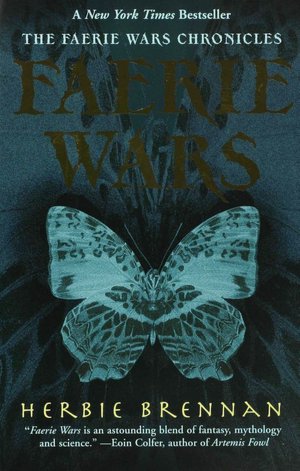 Faerie Wars - Herbie Brennan
When Henry Atherton helps Mr. Fogarty clean up around his house, he expects to find a mess and a cranky old man; what he doesn't expect to find is Pyrgus Malvae, crown prince of the Faerie realm, who has escaped the treacherous Faeries of the Night by traveling to the human world through a portal powered by trapped lightning. An egomaniacal demon prince, greedy glue factory owners Brimstone and Chalkhill, and the nefarious Lord Hairstreak, leader of the Faeries of the Night, all dream of ruling the Faerie realm and are out to kill Pyrgus.

Enlisting the help of his sister, Holly Blue, and his new friend, Henry, Pyrgus must get back to the Faerie world alive before one of his many enemies gets to him instead. But how many portals are open, and can Pyrgus find the right one before it falls into the wrong hands?

Conjuring scenes filled with vivid color, unforgettable detail, and fearless characters, author Herbie Brennan brings readers to the Faerie world, where nothing is ever what it seems and no one can be trusted. -
Goodreads
Outrageous characters, intriguing plot, I've read it probably three times and will have to read it again as I just recently bought the fifth one in the series. If I were to compare my own story with another, this one would probably be the closest.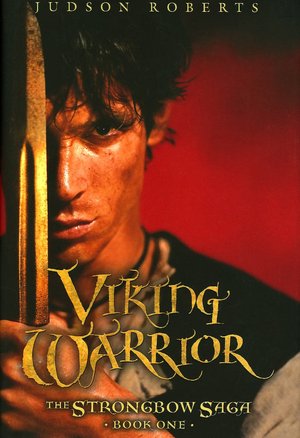 Viking Warrior - Judson Roberts
Young Halfdan is a salve. He is crafty with a bow and arrow and wise in the ways of the animals, but he can only dream of a warrior's life. That is, until the dark day a Saxon's blows lay his father on his deathbed, and his mother makes a tragic bargain for Halfdan's freedom.
A boy's destiny can come at the most terrible price. Halfdan must suffer a grave loss in order to grasp what he most desires: to train by, to live by, and, if the fates decree it, to die by the force of his sword and the swiftness of his bow. he is to be a warrior--a great warrior.
Bloody, furiously paced, heart-wrenching, and unflinching, this is a story of a land where the destinies of boys and men are forged in the heat of battle. Young Halfdan shall come to know the glories of true brotherhood and the unspeakable horrors of true and evil. In this first book in a saga teeming with thrilling details of the Viking world, young Halfdan emerges as a new hero . . . a new myth . . . a new legend.
I'm a tad bit obsessed with historical fiction featuring vikings. They're so full of awesome!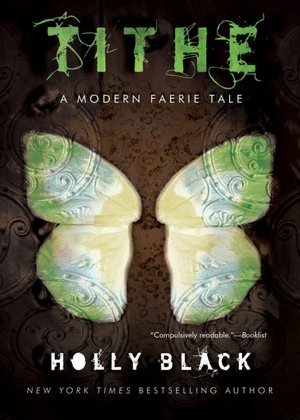 Tithe - Holly Black
Sixteen-year-old Kaye is a modern nomad. Fierce and independent, she travels from city to city with her mother's rock band until an ominous attack forces Kaye back to her childhood home. There, amid the industrial, blue-collar New Jersey backdrop, Kaye soon finds herself an unwilling pawn in an ancient power struggle between two rival faerie kingdoms--a struggle that could very well mean her death.
As popular as this book is, I'm surprised it hasn't been made into a movie yet. It was a great dark urban fantasy novel.
The Merchant of Death - D.J. MacHale

Bobby Pendragon is a seemingly normal fourteen-year-old boy. He has a family, a home, and even Marley, his beloved dog. But there is something very special about Bobby.

He is going to save the world.

And not just Earth as we know it. Bobby is slowly starting to realize that life in the cosmos isn't quite what he thought it was. And before he can object, he is swept off to an alternate dimension known as Denduron, a territory inhabited by strange beings, ruled by a magical tyrant, and plagued by dangerous revolution.

If Bobby wants to see his family again, he's going to have to accept his role as savior, and accept it wholeheartedly. Because, as he is about to discover, Denduron is only the beginning . . .
This series has been a favorite of mine since I was in 8th grade. There are ten books total. I had to wait a year for each of them to come out. Needless to say, I was in complete agony as I am incredibly impatient.
Artemis Fowl - Eoin Colfer
From a strikingly original new voice in fiction comes the story of Artemis Fowl, a very unusual hero. Artemis combines the astuteness of Sherlock Holmes with the sangfroid of James Bond and the attitude of Attila the Hun. But even Artemis doesn't know what he's taken on when he kidnaps a fairy, Captain Holly Short of the LEPrecon Unit. These aren't the fairies of bedtime stories. These fairies are armed and they're dangerous. Artemis thinks he's got them just where he wants them, but then they stop playing by the rules. . . .
Another series that I fell in love with when I was in 8th grade. I should really have thanked my science teacher for getting me hooked on them. I've heard talk of this being made into a film. But nothing has been done yet. Why the frick is that?!
Do you have any other books that you really really want to see come to life in the theaters?